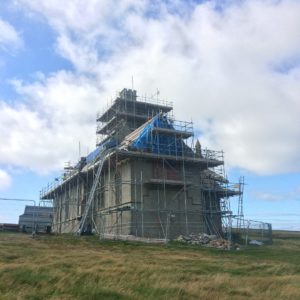 The PCC had a successful visit to Lundy in early August. It was an early start with an 8 o'clock departure from Bideford and a smooth crossing to Lundy. We visited the church to see progress with works and what was most striking on entering the building was the progress with the restoration of the 'east' window above the altar. The gothic arch will be restored, bringing the window back to the shape it was when St Helen's was built by the Heavens. This window has been square since it was damaged in a storm in 1962.
Works were progressing well in the vestry and it is now possible to see how the space is divided up into a bedroom, bathroom and a living space that includes a kitchenette and space for study. We saw that the font had been dismantled for its relocation to the front of the nave.
There has been lots of discussion about the refurbishment of the pews. When they were removed from the walls in the church, they were found to be in a much worse condition than we had anticipated and severely rotten. We hoped to retain some of them but it looked like this would not be possible. Thanks to the ingenuity of project carpenter John, a number of pews have been adapted, using the good ends and stabilised so they can not only be retained but moved around when necessary.
A project team meeting with the architect and a PCC meeting followed. We had lots to discuss and most importantly the fundraising situation. We were pleased to learn that we have received a £20,000 grant from the National Churches Trust but there is still a long way to go to reach our target of £150,000.
Please do consider making a donation to our project to help us reach our target and enable the works to be completed. Click the Donate button above!